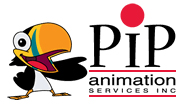 PIP Animation  Services is Hiring Animators!
We currently have overlapping productions, and we are looking to hire animators for a short term contract working in Adobe Flash CS6.  We are looking for part time and full time both in and out of house.
The contract could start immediately and would end mid December to give you extra cash for the holidays.
Applicants may be requested to do a test, and if accepted, will be hired on as employees.

Anyone working on these shows will be priority call back for new productions starting in the new year.
To apply, please email a link to your online portfolio and demo reel to info@pipanimation.com
In your email, please include your resume with full address.