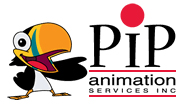 PIP Animation Studios
We are currently seeking to hire a Concept Location Designer for our second feature.
When applying for this position, please email Dave Fortier david@pipanimation.com and include "Concept Location Designer" in the subject of the email with your name.
Applicants must be Canadian citizens and preferably living in Ontario.
Experience:   Applicants should be highly creative and have several years experience as a concept location artist on either feature or series work.  Production layout supervision experience is a plus as our pipeline allows for a transition into layout supervision after location design.  A thorough understanding of Adobe Photoshop is a must and work experience in Harmony is an asset.
Job Description:  Working with the director, the Concept Location Designer will create main location designs based on the existing approved visual development.  Designs will be created in Adobe Photoshop as line art, and will be used as keys by the production layout artists.  These keys will be painted by the background key designer to establish the colour palette and mood of the film.
As a full time employee, this salaried position extends for approximately 16 weeks.  After which, the contract may be extended for an additional 18 to 20 weeks pending production layout supervision experience.
Start Date:  Immediately and preferably in-house, though out-of-house applicants will be considered pending experience.
Responsibilities:
Work in collaboration with the director and visual development department.
Bring enthusiasm and inspiration to the visual development as it is interpreted into production ready artwork.
Familiarize with the subject matter using the existing reference, as well as research additional reference as required.
Rough draft location design keys that demonstrate strong visual interpretation of the established style for directorial review.
Create schematic views on locations as required for visual storytelling at the storyboarding, layout, colour, and other stages of production.
Location designs should demonstrate a keen understanding of perspective and camera placement.
Revise and refine the location keys as per the director's notes.
Final locations will be used in the production and will be comprised of multiple layers to allow for parallaxing and multiplane camera moves.
Attend weekly meetings and work in tandem with the production department to ensure the scheduled deadlines are being met.
Approved keys will be organized and layered for use within the production and for use as keys for the production layout artists.
Finalizedand cleaned up designs using Photoshop will be organized with the proper naming convention on the working computer and server for daily backup.
Requirements:
Committed and reliable individual who will inspire the team while using this opportunity for personal growth.
A positive and professional attitude that can take creative criticism to improve and evolve the artwork, while being conscious of the schedule and maintaining deadlines.
Good communication skills and the confidence to discuss and work with the director and other crewmembers, to improve the final product.
Excellent understanding of perspective, camera placement, and composition.
Highly proficient in Photoshop, preferably with an understanding of a Harmony pipeline as well.
Ideally this is an in-house position, but experienced out-of-house talent will be considered.  Out-of-house talent are responsible for their own hardware and software that meets the studio criteria.
Experience in the animation industry as a location concept designer is a definite asset.