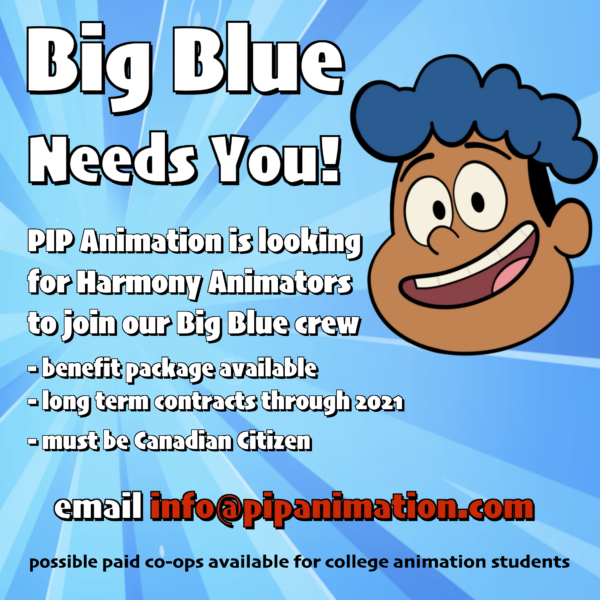 PIP Animation Studios has been an industry leader in bringing classic properties such as Cat in the Hat, Caillou, Tom & Jerry and Cyberchase to life in the digital animation industry. PIP is currently looking for additional 2D Harmony animators to work on our latest production Big Blue!
Qualifications
Passionate for character animation and problem solving
Good understanding of puppet/rigged character animation in Harmony
Strong drawing and posing skills for scene and sequence animation
Good understanding of cartoon timing, animation fundamentals and nuance
Able to meet the scheduled deadlines set by the Animation Director
Ability to refine your work with feedback by creative directors
Provide consistent quality and quantity of work on a weekly basis
Ideally 2 years industry experience but junior animators welcome to apply
Ideally full-time position but part time (20 hours/400 frames/week) available
Canadian citizen who is resident of Ontario
Additional Information
Long term contracts
Hiring status as employee
Access to our comprehensive benefit package
Remote working
In-studio work stations available that meet the current governmental guidelines
Equipment and software provided as required.
Come join our team and be a part of the next award-winning production
Email: info@pipanimation.com with Animator and your name in the subject and include a link to your online portfolio, your demo reel and a resume with your full address