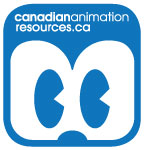 ABOUT CARTOON NORTH
Cartoon North was founded in 2008 as Canadian Animation Resources. The goal then, as it is now, is to bring together the Canadian Animation community in a positive and meaningful way, and to provide access to jobs, news and other resources. While existing mainly as a job board for a few years, Cartoon North is renewing its commitment to the animation community and setting out to connect our various production sectors and the fine humans who do the amazing work of making animation in Canada.
Cartoon North is maintained by Mike Valiquette.
ABOUT MIKE VALIQUETTE
Mike is a director, producer, designer and development exec who has worked all over Canada, for studios in Toronto, Ottawa, Vancouver, and the east coast. He's won a few awards, worked with some pretty awesome people, and also teaches at Seneca in Toronto. Mike runs his own little boutique studio, Go Lucky, and does his best to be an optimist in a world that makes that a lonely way to be.
You can support Mike, and Cartoon North, on Patreon!
SUBMITTING JOB POSTS
Cartoon North runs a free to use job board for anyone in the Canadian Animation community to use. As long as you are posting for a paid position, we're happy to help spread the word. We've always felt that's it's just as important for all members of our community to have access to talent, so whether you're a big studio working on the latest hit show, a mid size shop working on a web series, or an independent animator looking for someone to help out on your latest film, as long as you're paying a rate, we'll post it.
Recently, we've made a commitment to salary transparency, and now ask that all job posts follow a loose template that we've put together, including salary range. Here's the template:
Job Title: 2D Animator, CG Character Animator, etc
Company Name: This one's pretty straightforward
Location: City, province, remote, flexible
Salary Range: Mandatory
Position Status: Contract, Full-time, Part-time, Employee, etc.
Union Status: This is a thing now, we should probably be clear about it.
Benefits: If yes, please detail
Job Description:
Requirements:
Company Website, About:
To Apply: (including subject line)
Commitment to Barrier-Free Selection Process And Work Environment:
Possible Accommodations:
Application Deadline: Not mandatory, but appreciated.
Please submit your posts in .doc format, along with a company logo or other graphic, to mike@cartoonnorth.ca
For any other inquiries, including sponsorship or news releases, also contact mike@cartoonnorth.ca