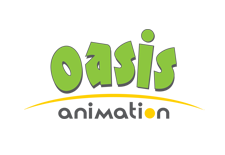 OFFRE D'EMPLOI
Oasis Animation est fier d'annoncer le début de la production de sa nouvelle série d'animation intitulée « Les Grandes Gueules », une série d'animation 2D de 26 x 22 minutes qui sera télédiffusée à Télétoon. La série met en vedette le duo Mario Tessier et José Gaudet, ainsi que l'animateur Richard Turcotte, qui donneront vie à leurs personnages célèbres et leurs univers loufoques.
Dans le cadre de cette importante nouvelle production qui durera plusieurs mois, Oasis Animation est en phase de recrutement active d'artistes en animation 2D numérique. Une formation sera également offerte aux candidats sélectionnés.
Oasis Animation est un studio d'animation doté d'une infrastructure de production numérique à la fine pointe et dirigé par une équipe au savoir-faire unique. Fondée en 2003, Oasis Animation est établie à Montréal et emploi plus de 80 personnes.
Vous cherchez un emploi à long terme, dans environnement exaltant dans un studio en plein cœur de Montréal (Parcs, Restos, bars, Spectacles). Vous voulez faire partie d'une équipe de calibre international, et ce sans vous expatrier, voici une opportunité à ne pas manquer.
Postes à Combler :
Animateurs Seniors 2D numérique (Harmony)
Riggers
Animateurs Juniors et intermédiaires 2D numérique
Design de personnages
Intéressés, prière de nous faire parvenir votre CV à CV@OasisAnimation.com
JOB POSTING
Oasis is proud to announce that it has started production on its new animated TV Series « Les Grandes Gueules » . This Prime Time 2D animated Series is comprised of 26 x 22-minutes episodes and is scheduled to air on Teletoon in 2015. The series will star Mario Tessier, José Gaudet and Richard Turcotte, The 'Grandes Gueules', which hold a special place in the Quebec culture. They've been dominating the radio waves for over 18 years and are as successful on stage as on TV. Over the years, The 'Grandes Gueules' have created a variety of characters who've become icons of our culture, on the radio and on stage. We've grown to know their personalities, their expressions, their colors and their peculiarities.
As part of this large production slated over several months, Oasis is actively recruiting 2D digital artists. Training on the Harmony software and pipeline will also be provided for the selected candidates.
Oasis Animation Inc. is a state-of-the-art digital animation Studio, producing high-quality animation content and providing advanced digital animation services to the animation industry.
You are looking for long term employment, in a first-class Studio located in the artistic district known as « the Plateau » in Montreal, within walking distance of pubs, restaurants, parks and shows. You want to work in a Studio delivering international quality projects without expatriating yourself, Oasis Animation is the place to go.
Jobs available :
Harmony senior 2D digital animators
Riggers
Junior and intermediate 2D digital Animators
Character animators
Interested, send your CV to CV@OasisAnimation.com