Last updated on November 24, 2014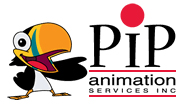 PIP Animation Services is looking for animators and design build talent. Canadian Citizenship and Ontario residence are a must for both animation and design positions. Animation can either be an in-studio or from home position but design build is in-house only.
To apply and for more information, please email info@pipanimation.com with a link to your online portfolio.