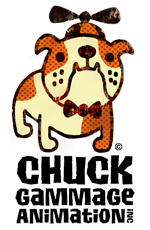 Chuck Gammage Animation is looking for a P/T (potential of becoming F/T) Compositor to start January 5, 2015.
Chuck Gammage Animation is an award-winning independent animation studio, located in downtown Hamilton. While embracing the traditional animation method as its foundation, after 18 years Chuck Gammage Animation continues to produce inspiring work and maintains exciting, high-quality projects in; Adobe Flash, Toonboom Harmony, traditional hand-drawn 2D animation and 3D.
WHAT WE'RE LOOKING FOR:
– Experience in Maya, After Effects and Premiere
– Knowledge of Toonboom Harmony
– Able to work efficiently in a fast paced, creative environment
– Able to communicate effectively within a team as well as work well independently
– Knowledgeable in file formats, resolutions, film, video, graphics and print standards
– General PC/Network maintenance
Start Date: January 5, 2015.
Please send us relevant examples of your work along with your resume and cover letter.
Please apply by sending an email with ANIMATION COMPOSITOR in the subject line to: info@cganim.com
Thank you for your interest, we look forward to hearing from you!