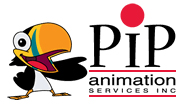 Animators Required
PIP Animation currently has 3 productions in-house and is looking for Animators. You can work either in-house or from home.
Requirements
Work efficiently in Adobe Flash CS6.
Demonstrate strong character acting.
A good sense of timing.
Complete animation from start to finish.
Industry experience is an asset.
Responsibilities
Responsible to our in-house Animation Director.
Able to meet weekly deadlines.
Resident of Ontario.
To apply, send an email to info@pipanimation.com with a link to your online portfolio & demo reel and include your resume with full mailing address.