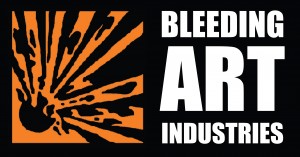 POSITION: 3D STORYBOARD ARTIST
We're looking for someone to help us create storyboards for our next stereoscopic 3D stop motion animated short film Mary and The Looking Glass, the follow-up to Skeleton Girl, the award-winning first film in the Twisted Tales for Demented Children anthology. If Calgary-based, the successful artist can create the storyboard at our Bleeding Art facilities where we have Toon Boom Storyboard Pro 3D available. The script is currently 9 minutes in length but is in the process of being edited down to roughly 7 minutes. Payment will be commensurate with experience. Preference will be given to Alberta, BC, or Ontario-based artists.
Qualifications include past storyboard experience, understanding of native stereoscopic 3D filmmaking process and how that translates from the storyboard, understanding of questions to ask and how to interpret director's vision of the film and execute it visually in the storyboards, ability to work quickly and efficiently, and to take feedback and make revisions as required.
Founded in 2002, Bleeding Art Industries is a creative and dynamic, award-winning company focused on native 3D and stop motion content, mechanical special effects and prosthetics/creature/make-up effects, and custom fabrication. These are complemented by product/equipment sales and rentals divisions. The company's work has been seen in hundreds of films and TV productions, on multiple stages, in military training simulations, museums, zoos, advertising, and many other places. It has won awards for clients and garnered kudos worldwide for its high level of quality and expertise. Bleeding Art produced Canada's first stereoscopic 3D and stop motion animated short film Skeleton Girl, winning Best First 3D Film at its premiere in New York. It was chosen as one of Canada's top short films in 2013 and toured to festivals worldwide. The company also recently completed The River, a fun and whimsical 3D stop motion animation to The Arrogant Worms song River of Snot, now viewable online at https://www.youtube.com/BleedingArt.
For more information on Mary and The Looking Glass and the Twisted Tales for Demented Children anthology, visit www.twistedstories.com.
***
Please submit cover letter, pay expectations, resume and samples of prior work via email or WeTransfer to becky@bleedingartindustries.com. Position will be posted until filled, with target completion date of the storyboards July 31, 2015.