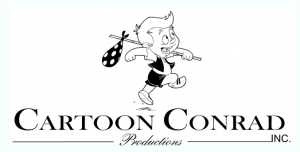 Cartoon Conrad is on the hunt for talented 2D Animators to work on several exciting new productions in Flash and Harmony!
Position: 2D Animator
Type: Full time, on site
Start Date: January 2018
Contract Length: 5-12 months, depending on the production
Location: Applicants accepted in this position must be a resident of Nova Scotia or willing to relocate to Nova Scotia.
Job Description: You will work with a collaborative team of artists to create episodes for a children's animated series. Animators will be expected to interact directly with the supervising animators and produce all the animation in the scenes given. Using a combination of classical animation and puppet-animation
techniques to animate all characters and props for your designated sequence.
Animators will work from prepared character builds, storyboards, layouts, and animatics to complete all designated scenes, including any retakes and revisions, incorporating all notes from the supervisor/director.
Qualifications:
The ideal candidate will bring excellent knowledge of traditional animation principles, as well as a great attitude to the team.
Demonstrates a commitment to delivering polished animation through firsthand experience with character acting and motion.
Passionate about art, with a strong eye for style & quality.
A great attitude and work ethic. Able to work & communicate efficiently in a self-motivated milestone-driven, team environment. Adaptability to different styles of character design.
Able to work & communicate well in a self-motivated milestone-driven, team environment.
Basic knowledge in Flash or Harmony is a must.
Your Animation Reel must demonstrate a great sense of timing, weight, acting, and character movement.
Submission Process:
We seek talent that values integrity and personal growth within an environment of intense collaboration. If this is you, please fill out the form and submit your information and link of your online animation reel to:
Only candidates being considered/accepted for the position will be contacted.
Cartoon Conrad is an artist-driven animation production house in Nova Scotia.
Our focus is producing original and cinematic animated content for episodic television and feature films. Our commitment has always been to create and produce outstanding animated products, providing exceptional service and fostering a supportive and creative environment for our employees.
We are located on a beautiful farmhouse property in Beaver Bank near the city of Halifax. We provide a shuttle from the Lower Sackville Bus terminal to and from the studio daily.