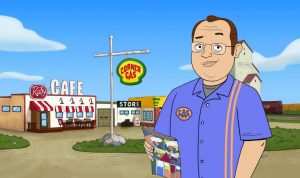 You itchin' to animate?  Ready to show off your acting chops?  Come and join our talented crew on Season Two of Corner Gas Animated.  We are looking for experienced animators proficient in Animate/Flash, ready to go, ready to learn and ready to kick Butt.  Brent Butt.  So, reach out, send us your reel and let's chat.

Ontario residency restrictions apply.
Go ahead email us at jobs@smileyguy.com
Thanks in advance for your submission!