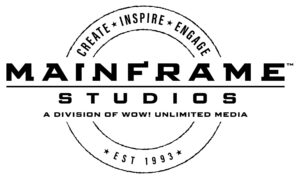 Animation Director – Barbie Series
At Mainframe Studios, we're creators first. We eat creative and technical challenges for breakfast and come back for more. We've been doing this for 25+ years, and we're still going strong. We're lucky enough to have the best team in the business. From our artists to our technical and production folks, everyone is passionate about collaborating on some kickass projects. We've partnered with the biggest names in the business to create a huge library of content. With partners like Mattel, Netflix, DreamWorks, Sony, Silvergate, and Nickelodeon, it's no wonder we've established ourselves as a creative force to be reckoned with.
WE WANT YOU (and your mad skills)!
We are looking for an experienced Animation Director to join our team on an exciting series! Under the guidance of the Director, the Animation Director provides creative leadership to the animation team.
We have openings on our new and exciting Barbie Series Production!
Responsibilities and Duties
Defines the creative style of a project's animation.
Defines and implements techniques and processes that help realize and enhance the performance of characters.
Ensures that the animation team is motivated to achieve the highest standards possible within the parameters of the production plan.
Oversees character consistency throughout film, ensuring that key character and story moments are supported through performance.
Evaluates and casts animators to characters/sequences/shots that best suit to their skill set.
Collaborates with creative and technical staff to ensure animation feasibility within the confines of schedule and budget.
Maximizes re-use where applicable.
Collaborates with Producer and HR on managing performance. Responsible for completing artist's performance reviews.
Attends meetings and coordinates efforts with other production staff and supervisors to facilitate optimal production flow.
Provides vision, feedback, motivation and support to the team.
Provides coaching, mentoring and training as necessary.
Partners with production management in tracking and ensuring the on-time delivery of high quality shots.
Ensures that the animators are achieving balance, composition and timing requirements in a way that supports performance, story and character.
Guides animators, leads and supervisors to creatively enhance material in order to achieve set standards of performance and complexity.
Interprets, implements, and facilitates notes and feedback from Director in a timely manner and of highest quality.
Adheres to digital file management protocols.
Aligns and engages with the values of Mainframe: a culture of community, connectivity, creativity and collaboration.
Interacts respectfully and professionally with colleagues, staff members and clients.
Qualifications and Skills
Expert understanding of principles of animation.
Superior knowledge of anatomy, perspective and composition.
Advanced knowledge of modeling, character rigging and facial animation.
Highly skilled in classical animation, stop animation or claymation.
Advanced level of proficiency in using Maya is required.
Must demonstrate outstanding storytelling, filmmaking, creative and artistic abilities.
Excellent writing and verbal communication skills; ability to clearly pitch and present story, art materials etc.
Practices attentive and active listening. Shares information, methodologies and ideas with others.
Ability to collaborate and facilitate feedback requested by executives and/or clients.
Demonstrated excellent leadership skills; ability to direct and inspire a crew to deliver high quality animation.
Ability to communicate process, plans and concepts and set clear expectations.
Highly motivated, solid work ethic and positive attitude, flexible and calm demeanor. Ability to work well under pressure. Consistently strives to expand knowledge base.
Creatively solves problems, makes decisions in a timely manner and accepts accountability for own actions.
Efficient and detail oriented. Thorough knowledge of the production process. Knowledge of the pipeline is considered an asset.
Outstanding problem solving skills and ability to work collaboratively. Actively improves skill set to remain at cutting edge of industry trends.
Ability to deliver work on time and meet set performance objectives.
How To Apply: https://mainframestudios.applytojob.com/apply/VTEe6nktjI/Animation-Director—Barbie-Series
—
Mainframe Studios is an Equal Opportunity Employer, which means we will not discriminate against any individual based on race, colour, sex, national origin, age, religion, marital status, sexual orientation, gender identity, gender expression, military or veteran status, disability, or any factors prohibited by applicable law. This policy applies to every aspect of employment at Mainframe Studios, including recruitment, hiring, training, advancement, and termination. We celebrate diversity and are committed to creating an inclusive environment for all employees and partners. Should you require accommodation throughout the recruitment process, please let us know your requirements when contacted.