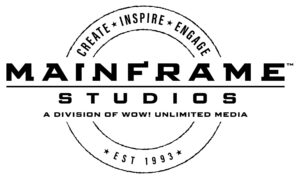 Designer (Environments) – Unannounced Project
At Mainframe Studios, we're creators first. We eat creative and technical challenges for breakfast and come back for more. We've been doing this for 25+ years, and we're still going strong. We're lucky enough to have the best team in the business. From our artists to our technical and production folks, everyone is passionate about collaborating on some kickass projects. We've partnered with the biggest names in the business to create a huge library of content. With partners like Mattel, Netflix, DreamWorks, Sony, Silvergate, and Nickelodeon, it's no wonder we've established ourselves as a creative force to be reckoned with.
WE WANT YOU (and your mad skills)!
Under the guidance of the Production Designer/Art Director, on a CG animated film, the Designer creates 2D and 3D designs and/or orthographics of characters, sets, vehicles and/or props depending on their area of expertise.
This particular Designer will primarily work on environments.
Responsibilities and Duties
Under the leadership of the Production Designer/Art Director, the Designer creates designs that support the overall creative vision for the story based on the determined style of the project.
Interprets and implements notes and feedback from the Production Designer/Art Director or Lead in a timely and qualitatively acceptable way.
Collaborates with modelers to test efficacy of 3D elements, modifying designs as required.
Delivers assignments per project's schedules.
Adheres to digital file management protocols.
Aligns and engages with the values of Mainframe: a culture of community, connectivity, creativity and collaboration.
Interacts respectfully and professionally with colleagues, staff members and clients.
Qualifications and Skills
Degree and/or diploma in fine arts or animation or equivalent experience preferred.
2-3+ years of experience working in a professional environment within their discipline.
A keen eye for the aesthetic needs as well as diverse visual development styles as required by the project.
Working knowledge of anatomy, proportion, perspective and composition. Ability to visualize perspective and 3-dimensional space. Strong drawing, illustration and/or painting skills.
Understanding of CG animation, particularly in modeling and rigging.
Proficiency using Photoshop is required. Familiarity with Houdini, After Effects, ZBrush, Corel Painter, Illustrator and Maya is considered an asset.
Ability to communicate ideas clearly and concisely.
Proactively communicates production issues to supervisor. Practices attentive and active listening. Shares information, methodologies and ideas with others. Incorporates feedback and direction received from Director/Supervisor.
How to Apply: https://mainframestudios.applytojob.com/apply/tixTfpHtzp/Designer-Environments-Unannounced-Project
—
Mainframe Studios is an Equal Opportunity Employer, which means we will not discriminate against any individual based on race, colour, sex, national origin, age, religion, marital status, sexual orientation, gender identity, gender expression, military or veteran status, disability, or any factors prohibited by applicable law. This policy applies to every aspect of employment at Mainframe Studios, including recruitment, hiring, training, advancement, and termination. We celebrate diversity and are committed to creating an inclusive environment for all employees and partners. Should you require accommodation throughout the recruitment process, please let us know your requirements when contacted.