Last updated on August 4, 2021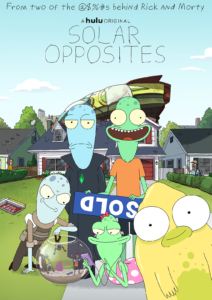 Harmony Builds Artist – Copernicus Studios – Solar Opposites
Copernicus Studios is looking for the next great crew members to join us for Season 3 of Solar Opposites!
In the past year we have expanded our remote workforce across Canada and are looking for Harmony Builds Artists to be based in British Columbia, Ontario, and Nova Scotia.
What You Will Be Doing:
Working closely with the Builds Supervisor to create functional character builds for animators
Working within a small team of artists to clean-up and build the final character turn-arounds and rigs to be used in the production (which includes a combination of prop and incidental character builds)
What We Need From You:
A strong portfolio exhibiting design/clean-up/building experience
Experience in Toon Boom Harmony
A willingness to work hard, communicate well with crew, and be a good team player
Excellent time-management skills
Ability to multitask while working well under pressure
What We Offer:
The flexibility of working from the comforts of your own home if you choose to work remotely i.e. a great work/life balance
The opportunity to work on a well-established show with reference and training material to get you up to speed
Competitive Salary
A fun working environment – we make cartoons!
Requirements:
Applicants must be currently eligible to work in Canada i.e. Canadian Citizen, Permanent Resident, or eligible Work Permit
How to Apply:
Please visit our Careers page (https://www.copernicusstudios.com/careers/) and fill out an application
Copernicus Studios embraces and encourages inclusion and diversity. We welcome applicants in historically underrepresented groups such as indigenous persons, racially visible persons, persons with a disability, women, and persons of a minority sexual orientation and/or gender identity. We also acknowledge and value new Canadians that are working to establish their roots in Nova Scotia. Please feel free to self-identify.