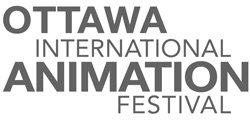 Hello!  The Ottawa International Animation Festival is looking for a
summer student interested in being our design intern until the end of August. It is a paying position – but more importantly you will have an amazing, diverse portfolio by the time you are done.   You must currently be a student returning to school to apply for this position.
If you are interested – please send us a resume, some samples of your work and a cover letter to kelly@animationfestival.ca by June 12.    If you need more information, call Kelly Neall at 613 232-8769.
Job Description:  Graphic Designer
Ottawa International Animation Festival
Job Summary: Work with core staff to ensure that festival publications have a consistent look and feel that are representative of a world-class film festival.
Starting Date: asap
End Date: end of August
Responsibilities:
Work with the team to establish the overall look and graphic elements of publications and web ads
Contact printing companies to estimate the costs of publications
Estimate the time to complete the designs and create a long-term plan to meet deadlines
Select photos and illustrations
Perform the layout, page make-up and placement
Edit content for spelling and grammar
Skills and Abilities:
Working on a post-secondary degree or diploma in Graphic Design
A working knowledge of InDesign
Strong communication skills in English – French is a plus