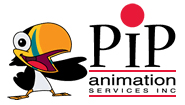 April 22, 2010
Thankfully, an overlap in productions has resulted in a need for more animators.  PIP Animation is currently looking for six to ten animators to work on two different
productions.
In order to qualify, you must be a traditionally trained animator with production experience in Adobe Flash 8 and/or Flash CS4.  You must also be a Canadian Citizen and a resident in the Province of Ontario since December 31st, 2009.
If you meet the criteria and are looking for work, please email your resume and link to your online demo reel or blog to info@pipanimation.com.