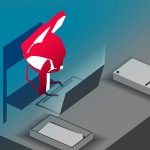 This one's kinda cool folks, but you'd need to be in Berlin.
Hi everyone,
I'm hiring again! This time it's not for a big commercial project – it's for my next short film. I have actually never hired anyone to help with my own animation so I'm really excited about this, it will be a lot of fun to work on.
I'm gonna need 2 awesome character animators and a rigging expert/animator. You need to be a total pro at Maya.
For animation I need people with experience doing acting animation and lipsynch with a really fast turnaround. It helps if you have worked within tight deadlines and you can handle a large volume of stuff to get through.
Like everything else I've done – this will be rendered in the software and my goal more broadly with 3d is to keep everything lightweight and simple to work on. For rigging, I need someone who can rig a large variety of different characters and keep it economical and changeable. It is a big help if you can draw or know how to make different expressions for your rigs.
Again – this is not a giant commercial project, I'm pulling a lot of favours with it, but there is a budget and you will get paid. It will take about 3 months (May, June, July 2010).
It helps if you are in Berlin!
Please send your portfolios to mail (at) davidoreilly.com. We will try and get through everything asap.
Thanks everyone.
David
And if you're not sure who David Oreilly is, he did this:

Please Say Something – Full Length from David OReilly on Vimeo.