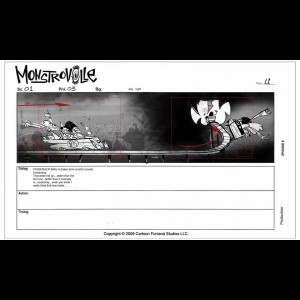 Monstroville is an independently produced project based in LA.  They're currently looking for a board artist.  Check out the blog for more info about the project, starring Tom Kenny and Clancy Brown.  Here's the job info:
Monstroville Storyboard Artist Wanted!
I'm currently looking for a freelance storyboard artist to work on a new Monstroville Flash short starring; Tom Kenny, Clancy Brown, and many more! This is a paying gig, so if you're interested please contact me directly at vonkreep1313@yahoo.com and please be sure to send me your resume, and portfolio.