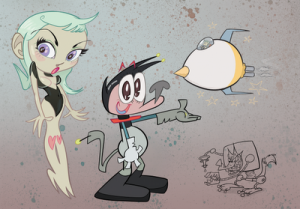 January 7, 2011
He's primarily looking for LA-based artists, but I thought it was worth posting.  Over on his blog, John has posted a call for artists who can animate, ink and paint, and paint backgrounds for some short station IDs he's working on.  Of interest: he's doing them using ToonBoom Harmony.  John's been using flash for years, and pioneered it's use for web cartoons.  I haven't been following his blog as regularly as I used to, so I've been unaware of any discussions he's posted regarding his switch.
He even gives Harmony a bit of an endorsement at the end of the post:
It's a very easy program to animate in.
If you're interested, you're asked to put link to your stuff in his comments.
Let me stress that: IN HIS COMMENTS.  Not in our comments.  Follow the link, and respond there.