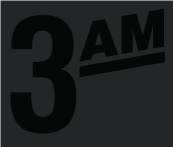 November 4, 2011
3AM Design is looking to expand our team with an experienced senior CG generalist, who has a proven background within a CG-related industry.  The individual will have a key role within a boutique studio, and will actively contribute both creative ideas and technical solutions. The role requires a highly motivated and committed individual who is an innovative problem solver, a team player, is open to direction and has a fantastic eye for the details.  You must be able to supply a show reel and, if requested, a shot breakdown explaining your role in the the projects shown.
Our ideal candidate:
– An excellent understanding of Maya, including multi-pass rendering, lighting, dynamic simulations and overall integration into the CG production pipeline
– Be able to create high quality 3D assets that follow art direction and style associated with the project
– Responsible for modelling, rigging, animations, texture, lighting, and other 3D-related needs
– Must be comfortable with various aspects of CG production, including knowledge of compositing software
– Brings added value to any project, through animation, compositing and finishing
– Discerning eye and critical of one's own work, while constantly looking to improve
– Solid organizational and multitasking skills, and can manage ones workload throughout variable timelines
– Great communication skills, and can quickly move forward with creative briefs as they are provided
Package:
– Competitive salary based on experience + yearly bonuses
Requirements:
This a full-time position in a downtown Toronto studio, if you can't work in downtown Toronto during regular business hours, please don't apply.
Please send a link to your up-to-date CV and showreel to info@3am-design.com