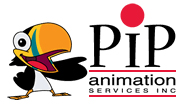 April 5 2012
ANIMATORS – PIP Animation, in Ottawa is looking for 6 to 10 experienced Flash animators to work on our overlapping productions. We are currently working on the award winning "Cat in the Hat Knows a Lot About That" season 2, and 1 hour Christmas special and a brand new 52 x 11 series. As all three production are in progress, work would start immediately.
Ideally, animators would have experience in Flash CS4, a good sense of timing and work in-studio, but working remotely is also an option. Those working out of house will still be hired as employees and you will receive and send files via our FTP site. Applicants must be Canadian Citizens and residence of Ontario.
If you are interested in working on award winning productions with a highly experienced team, please send your contract information and a link to your online demo & portfolio to info@pipanimation.com.