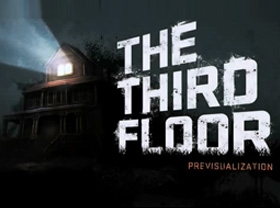 January 14, 2013
The Third Floor, Inc. is seeking local Montreal artists for Feature
Film.  Candidate must be a Canadian Citizen, and will be working in Montreal. By using the language of cinematography and animation to design the strongest possible sequences, a Previs Artist holds a collaborative, impactful role in the film-making process.  Previs moves fast, making an artistic sketch of the film to come, yielding an enormous boost to the enthusiasm of a project in development.
A Previs Shot Creator is responsible for piecing together elements, setting them in motion, and virtually filming them to create highly cinematic sequences. Nearly any aspect of a shot can be tweaked instantaneously to improve the composition or the timing of the action.
Creating previs shots and sequences help to support the director's vision via appropriate use of camera movement, lenses, composition, staging, lighting, and editing.
The ideal candidate will:
– possess a strong sense of composition, animation timing, and basic storytelling.
– be team oriented and able to take direction well from a supervisor
– be adaptable, flexible and accepting of change, often tossing out ideas and starting anew.
– have Knowledge of cinematic language and camera terminology
Software Utilized:
Maya
Adobe After Effects, Motion Builder a plus
Please send inquiries to jobs@thethirdfloorinc.com  On-line reels and links to websites are welcome. Please also include a shot breakdown showing specifically what you contributed to each shot/sequence. No phone calls, please.