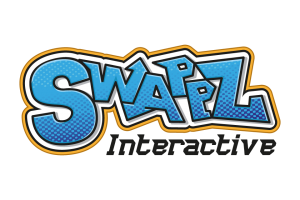 June 19, 2013
Swappz Interactive is a digital gaming studio based in Toronto that is developing ground breaking mobile games using innovative technologies.
Swappz Interactive's signature games bridge the gap between traditional toy play and mobile gaming. With Swappz games you can play and collect your favourite Swappz collectible characters, without needing anything other than a smartphone or tablet!
Job Description: Character Flash Animator and Illustrator: Our game characters need to run, dash, jump and die! If you have experience with animating characters, whether in a broadcast or game production, then you're who we're looking for.
Key Assets Include:
– Animating 2D Character Instances in Flash
– Symbolization of Flash Character Puppets
– Ability to match, exactly, the provided visual style
– Anticipate, communicate and trouble shoot any technical issues
– Ability to take constructive criticism well
– Exporting Flash Sequences & Constructing Sprite Sheets
– Candidate must be a Canadian Citizen and Resident of Ontario
– Ability to work as part of a team as well as independently
– Understanding of the production process
Additional Skills:
– Experience in the mobile game industry or related fields
– Illustrator and/or Photoshop
Send your cover letter, resume and a link to your portfolio and demo reel to jobs@swappzinteractive.com