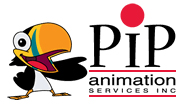 Production Layout Artists Required
PIP Animation Services Inc. is currently looking for more talent in our Layout Department.  Everyone accepted will gain full employee status regardless of working in or out of house.
Responsibilities
·      Work efficiently in Adobe Photoshop.
·      Logically layout sequences around the character posing.
·      Using the location design keys and the leica/animatic, create shot specific layouts in the style of the show.
·      Ensure the work handed to you, is completed, posted for review and revisions completed within the time allotted by the Layout Supervisor.
·      You are directly responsible to the Layout Supervisor.
·      Able to meet weekly deadlines.
Requirements
·      The ability to work independently with minimal supervision.
·      Be able to work independently off site.
·      Online portfolio & demo reel for Creative Director's review.
·      Canadian Citizen and resident of Ontario.
·      Industry experience is a huge asset.
To apply, send an email to info@pipanimation.com and include your name and the position you are applying for in the subject line.  In your email please provide a link to your online portfolio & demo reel.
Who is PIP Animation?
PIP is a full service animation studio located in the west end of our nation's capital, Ottawa.  We are celebrating our 15th year in the business and many of our crew have been with us from the beginning.  PIP is primarily an Adobe Suites studio, specializing in Flash CS6 for animation, though we also use other software to meet the needs of our productions.  We currently have several overlapping productions and require additional talent to meet our pipeline needs.
www.pipanimation.com