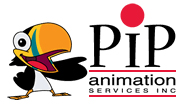 Production Designer Required
PIP Animation Services Inc. is currently looking for more talent in our Design Department.
Responsibilities
Using Adobe Flash CS6 and the approved conceptual artwork, create and rig the necessary elements of each character & prop in the style dictated by the preproduction design package.  You are directly responsible to the Design Supervisor on this production and will work in full cooperation with the production staff.  The primary function of this position is to create character and prop builds/rigs required and possibly minor conceptual art work from time to time.  This is an in-house position with both day and evening shifts available.
Requirements
Work efficiently in Adobe Flash CS6.

Good drawing skills

Having animated in Flash is a huge asset

Another asset is having worked/build characters in 3D.

Able to meet weekly deadlines.

The ability to work independently with minimal supervision.
·      Responsible to our Design Supervisor
·      Online portfolio & demo reel for Creative Director's review.
·      Canadian Citizen and resident of Ontario.
·      Industry experience is an asset.
To apply, send an email to info@pipanimation.com and include your name and the position you are applying for in the subject line.  In your email please provide a link to your online portfolio & demo reel.
Who is PIP Animation?
PIP is a full service animation studio located in the west end of our nation's capital, Ottawa.  We are celebrating our 15th year in the business and many of our crew have been with us from the beginning.  PIP is primarily an Adobe Suites studio, specializing in Flash CS6 for animation, though we also use other software to meet the needs of our productions.  We currently have several overlapping productions and require additional talent to meet our pipeline needs.