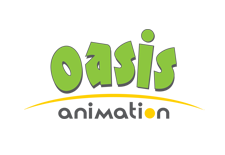 Senior Production Coordinator (permanent role)
Join Oasis Animation!
We are looking for someone who knows 2D digital production, has great production coordination skills and an artistic eye!
Job summary
Reporting to the Production Manager, the Senior Production Coordinator oversees the work of the production team on the project, manages the schedule and ensures that the deadlines are met.
He supports the Production Manager in the many tasks related to the production. His main tasks are coordinating the teams' workloads and keeping a good communication with the various departments. He must ensure that the deliveries are met as per the established schedules, keep track of the project and ensure a strong workflow, along with the Production Manager and the Supervisors.
 Responsibilities
Script coordination: formatting, tracking of the different versions, preparing the material for the voice recordings, follow-up of the pickups, conforming, breakdown;
Planning and coordinating on a daily basis the work of the departments, in cooperation with the supervisors and the Production Manager;
Participate in assigning tasks based on the availability of the resources of the Studio;
Communicate the right information to the pertinent people and ensure that it is well understood and applied on the project;
Provide support to artists : ensure that the deadlines are met for each task in order to meet the set department deadlines; ensure that the artists have access to the references and to the necessary material;
Plan and participate to all meetings concerning the progress of the project (scrum);
Follow the project schedules, anticipate any potential problems and inform the Production Manager, while bringing solutions in order to respect the deadlines;
Ensure a constant communication between the different departments;
Ensure that the server and Asset Management are well organized;
Implement and improve procedures in order to solidify the workflow through the pipeline;
Play a key role in keeping a good spirit and a positive atmosphere among the teams;
Provide support in quality control before delivering the material to post-production;
Ensure delivery of the different elements for approval to the client for the key production stages (designs, storyboards, animatics, etc.) and follow up on the requested corrections ;
Ensure that the Studio's established procedures are followed and report non-compliance to the Production Manager and the HR Director ;
Perform any other related tasks assigned by the Production Manager.
Requirements

Five year experience in production coordination, ideally in 2D digital.
Good knowledge of Toonboom Harmony.
Strong knowledge of the 2D digital production pipeline.
Great ability to adapt and a strong capacity for multitasking.
Ability to inspire people with enthusiasm and a positive attitude.
Excellent cooperation, team work, and communication.
Excellent organizational skills, detail-oriented and determination.
Please send CV to: jobs@oasisanimation.com