Last updated on May 10, 2018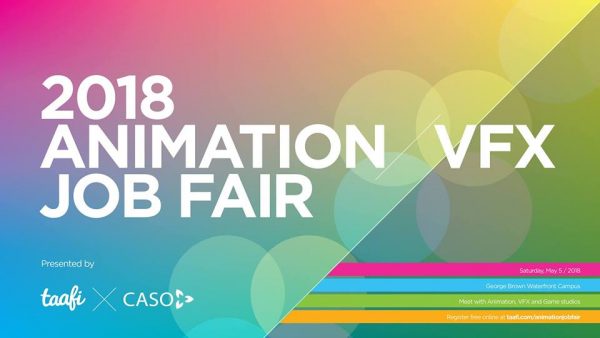 That's right! JOB FAIR is upon us! George Brown Campus on Toronto's waterfront, and EVERYBODY's coming!!!!!!
Well, not everybody.
May 5th, 2018.
George Brown Waterfront Campus, Toronto
The TAAFI/CASO job fair is back. Here's the details:
The Animation / VFX Job Fair is a one-of-a-kind recruitment fair connecting top studios with Canada's best animation, visual effects, gaming students and professionals. Once again, this year's job fair is multiplied exponentially through our partnership with Computer Animation Studios Ontario (CASO), representing studios from across the Ontario region.
This is a FREE to attend animation recruitment event, targeted at connecting top studios with animation, visual effects and gaming job seekers from across Ontario and the GTA, in a turn-key, highly promoted event designed to make jobs happen!
Exhibitors' Concourse – studio and recruiting booths awaiting job-seekers, allowing direct access to leading studios in animation, visual effects and gaming
Portfolio Zone – where industry pros give constructive feedback on your work and share how to stand out from the crowd
The Presentation Zone – features inspirational and informative talks for attendees and recruiters
Meetings with exhibitors will be first-come first-served via individual table line ups.
See you there, job-seekers!
****
Would you like to exhibit at the TAAFI & CASO Animation Job Fair? Contact jobfair@taafi.com for more details on booth opportunities.
Join the conversation #TAAFIxCASO