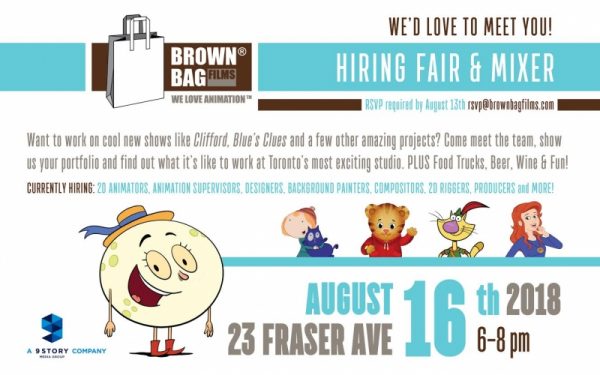 Brown Bag Films (formerly 9Story) is holding a Hiring Fair and Mixer on August 16th. Here's the info:
To see if Brown Bag Films is the right fit for you, come check out our Hiring Fair & Mixer on August 16th and learn about our exciting new projects.
The event will be held at our Toronto studio on 23 Fraser Avenue in Liberty Village from 6-8 pm. There will be information stations, opportunities to show us your portfolio and the chance to get to know some of our staff and recruitment team members. There will also be yummy food and drinks! 
Please RSVP to rsvp@brownbagfilms.com by August 13th if you plan on attending!
There's currently a lot of openings on their job board, check it out here.