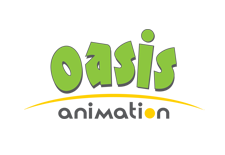 JOB OPPORTUNITY: 2D ANIMATOR     
Oasis Animation is expanding!
We are working on major projects, with several series already distributed around the world.
Oasis Animation: a company specialized in 2D digital animation
The largest studio in Quebec and a major player in Canada
Interesting challenges
Skills development with training at Campus Oasis
A team of passionate people
Permanent position contracts for all our employees
Variable hours to accommodate the needs of all
Personal days
Group insurance
A very friendly social committee team
A beautiful work studio in the heart of Plateau Mont Royal!
We are recruiting Rigging artist:
The Rigging Artist is in charge of the skeletons by creating a series of bones that deform and animate specific parts of the character of a 2D animation series. That person must comply with technical and artistic requirements.
Daily tasks:
Import vector characters into the database
Create the scene in which the puppet will be created
Create the pallets of puppets
Color the puppets
Separate the parts of the body in level
Rigger the puppet and insert the elements
Test the puppet
Ensure that the correct nomenclature has been used
Required talents:
Degree in animation or equivalent experience
Good knowledge of Toon Boom Harmony
Knowledge of the anatomy, structure, dynamics and movements of characters
Strong knowledge of rigging techniques, leveraging cutter tools, linear and curve deformers facilitating smooth head and body turns
Autonomy and collaborative spirit
Strong critical thinking and problem solving skills, rigor, good work ethic
Ability to work under pressure
Ability to work effectively within technical constraint and project deadlines
We are looking for rare gems to fill our teams. Highly creative, thirsty for new projects, willing to learn? Send us your CV and your portfolio at jobs@oasisanimation.com and mention which position(s) are you looking for. You might be the one in a million!