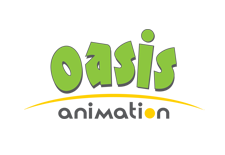 JOB OPPORTUNITY: RIGGING TEAM LEADER
Oasis Animation is expanding!
We are working on major projects, with several series already distributed around the world.
Oasis Animation: a company specialized in 2D digital animation
The largest studio in Quebec and a major player in Canada
Interesting challenges
Skills development with training at Campus Oasis
A team of passionate people
Permanent position contracts for all our employees
Variable hours to accommodate the needs of all
Personal days
Group insurance
A very friendly social committee team
A beautiful work studio in the heart of Plateau Mont Royal!
We are recruiting Rigging team leader :
A true actor, that person coordinates the production of the rigs and supervises the rigging artists and validates their work. It must respect the technical and artistic requirements of the Producer and the Director.
Daily tasks :
Contribute to the development of tools to improve the animation process
Create frames that will be used to animate and distort the characters in a series of 2D animation
Attend the scrum and transmit the relevant information to the team
Maintain regular communication with the production manager and inform him of the status of the work
Regularly give feedback to the members of his team in terms of their performance
Required talent :
Degree in animation, art, multimedia or equivalent experience
Good knowledge of Toon Boom Harmony
Minimum of two years of experience in character rigging
Excellent understanding of the pipeline of a 2Danimation series
Ability to accept changes and adapt to carry out production
Ability to project requirements and meet established deadlines
Ability to communicate and mobilize people
Excellent ability to plan, coordinate and respect the deadlines
We are looking for rare gems to fill our teams. Highly creative, thirsty for new projects, willing to learn? Send us your CV and your portfolio at jobs@oasisanimation.com and mention which position(s) are you looking for. You might be the one in a million!