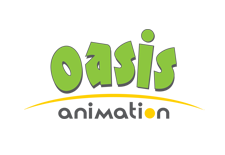 JOB OPPORTUNITY: 2D LEAD ANIMATOR
Oasis Animation is expanding!
We are working on major projects, with several series already distributed around the world.
Oasis Animation: a company specialized in 2D digital animation
The largest studio in Quebec and a major player in Canada
Interesting challenges
Skills development with training at Campus Oasis
A team of passionate people
Permanent position contracts for all our employees
Variable hours to accommodate the needs of all
Personal days
Group insurance
A very friendly social committee team
A beautiful work studio in the heart of Plateau Mont Royal!
We are recruiting a 2D Lead Animator:
Important to his team, the Lead Animator is a resource person for his colleagues. Collaborating with the Animation Supervisor, he makes sure the technical and artistic requirements are respected.
Daily tasks:
Assist the Animation Supervisor with the analysis of the storyboard;
Assist the Animation Supervisor with the approval of the animation according to the project's requirements;
Handle problematic scenes;
Inform the Technical Director of which animation and drawings are to be added to the database so it can be reuses;
Be part of the training course on Toon Boom Harmony software;
Maintain regular communication with the Animation Supervisor and make daily follow ups of the completed work.
Required talent:
Degree in animation or equivalent experience;
Master of Toon Boom Harmony software;
Very good knowledge of 2D Animation basic techniques;
Minimum 5 year experience in animation;
Strong ability to express thoughts, to communicate recommendations and to provide positive feedback.
We are looking to find that rare gem to be part of our team. Highly creative, thirsty for new projects, willing to learn? Apply now at http://oasisanimation.com/en-us/Jobs !