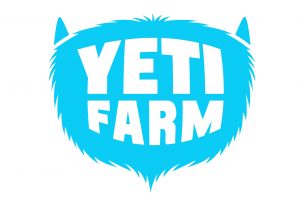 Yeti Farm is a full-service 2D and 3D studio covering every aspect of the animation pipeline. Located in Kelowna, BC, we partner with some of the best world-class names in the industry. Some of our past work includes series such as Hotel Transylvania Season 2, Beat Bugs (Netflix) and Little Charmers (Netflix).
Why Yeti Farm?
Join us in our 7,000 square foot state-of-the-art studio with a gourmet kitchen, funky lounge areas, gaming spots and a rooftop patio to enjoy the amazing Okanagan Valley weather
Surrounded by warm waters and stunning beaches, there is no shortage of outdoors adventures at our doorstep
Health benefits with a flexible wellness spending account
Our own line up of original shows, which means a wide variety of creative opportunities for you!

Want to learn more? Check us out at www.yetifarmcreative.com.
About the Position
Reporting to the Production Manager and Producer, the Animation Coordinator acts as the "life support" for their respective department and their artists on the front lines, working closely with the creative Directors and Supervisors in their departments. They are responsible primarily for the daily quota tracking to the production schedule, front-facing client communication as it relates to their department and asset/shot tracking. As it relates to the Production, the Animation Coordinator will oversee the Animation team, Posing team and FX team. As well aid the Production Manager as needed in setting up Shotgun and the hand offs between the Rigging and Post departments.

Core Responsibilities
Production Breakdowns & Tracking
Pro-active retrieval of the production scripts, lists, animatics and cut scenes/audio from editing, to produce the breakdown for their department
Determine the output needed for each episode and enter all required info in Shotgun
Work with their department Supervisors to assign workloads and determine priorities
Track artist output in accordance with the scheduled time allotment, providing weekly updates to the Production Manager
Ensure that any schedule issues foreseen are flagged immediately and reported to the Production Manager
Communication & Coordination
Liaise with Tech Support when needed to support artists and the tracking systems they rely on and use to deliver their work
Liaise with the Supervisors and Directors on helping with assigning shots from the server or tracking software interface
Act as a sounding board for the entire team – front line communication and problem solving, while reporting severe issues up to the Production Manager in a timely manner
Primary contact for their departments vacation, sick day, and leave requests, and will work with the Production Manager to schedule time off in accordance with studio policies and procedures
Collection and organization of timesheets, and tracking vacation/sick days
Client-facing communication to retrieve assets, and any other elements or dependencies needed at the studio to keep production running smoothly
Note taking and distribution in the departmental review sessions and meetings
Administrative & Additional Responsibilities
Responsible for all shots being delivered to client as per schedule, and is accountable for tracking of these shipments to the satisfaction of the client
Troubleshoot, with the assistance of the Studio Technologist, any tech issues impeding or hindering the smooth delivery of footage to the client
Responsible to promote open communication and share responsibility to keep the team engaged in the production with the aid of the Production Manager
Will serve as the contact for all non creative issues with the artists in their department and will bring up any concerns or possible issues with the team to the Production Manger and Supervisors as needed
Work closely with the Production Manager to organize events for the Project when needed
Other administrative or design-related duties as assigned by the Production Manager and Producer
Desired Skills
Proficiency in Microsoft Excel, Word and Google Suite products (Gmail, Google Drive)
Understanding of Toon Boom Harmony is an asset
Prior experience using Shotgun or other animation production tracking software strongly preferred
Strong aptitude to learn
Proactive thinking – think ahead to see roadblocks before they occur
Clear concise professional communication both written and verbal.
Must be currently a Canadian citizen or a Permanent Resident, or have a valid Work Permit, with the ability to work in-house at our Kelowna, BC, studio.

Qualified applicants are encouraged to submit their resume to recruiting@yetifarmcreative.com.