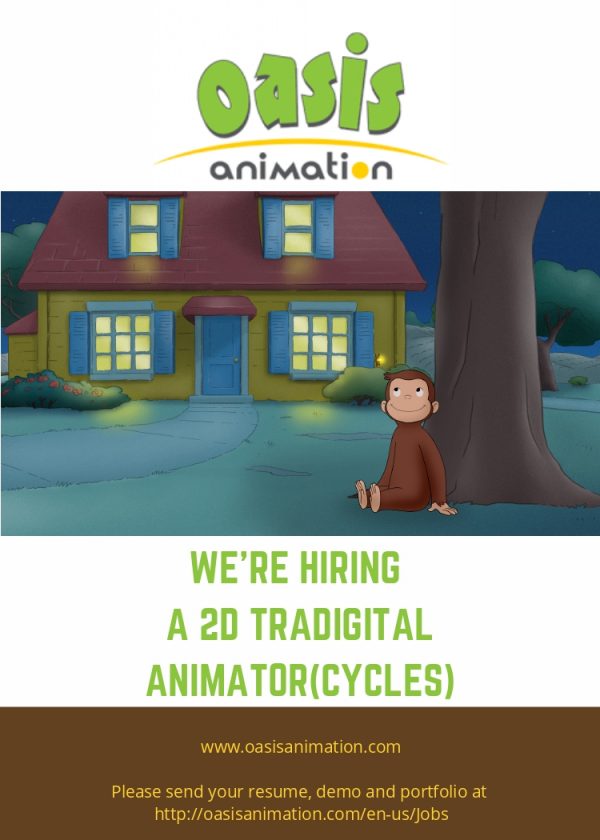 OFFRE EMPLOI : ANIMATEUR DE CYCLES
Oasis Animation est en pleine expansion!
Nous travaillons sur des projets d'envergure, avec déjà plusieurs séries diffusées à travers le monde.
Oasis Animation : une entreprise spécialisée en animation 2D numérique
Le plus grand studio du Québec et un acteur majeur au Canada
Des défis intéressants
Le développement des compétences avec la formation Campus Oasis
Une équipe de gens passionnés
Des contrats pour des postes permanents pour tous nos employé(e)s
Un horaire variable afin d'accommoder les besoins de tous et toutes
Des journées mobiles payées
Un accès 24h/24 à des professionnel(le)s de la santé via Dialogue
Une assurance collective
Un comité social avec une équipe plus que conviviale
Un magnifique studio de travail au cœur du Plateau Mont Royal!
Nous recrutons des animateurs de cycles : L'animateur de cycles est responsable d'animer les cycles de marche, de course et les autres cycles d'une série d'animation 2D. Il doit créer des animations de qualité supérieure qui respectent les recommandations, les corrections et les exigences tant techniques qu'artistiques.
Quotidien:
Effectuer les cycles de marche, de course et autre
Faire approuver les animations par le superviseur d'animation.
Maximiser la réutilisation tant au niveau de l'animation que des dessins.
Faire un suivi journalier du travail effectué.
Talents recherchés:
Diplôme en animation ou expérience équivalente.
Connaissance de Toonboom Harmony.
Bonne connaissance des bases et techniques d'animation numérique 2D.
Faire preuve d'autonomie tout en ayant de la facilité à s'intégrer dans une équipe de collaborateurs.
Créativité, rigueur et souci du travail bien fait.
Travailler efficacement à l'intérieur des contraintes techniques et échéanciers du projet.
Nous recherchons la perle rare pour combler notre équipe. Hautement créatifs, assoiffé de nouveaux projets, volonté d'apprendre? Postule immédiatement
via http://oasisanimation.com/fr-fr/Emploi!
JOB OPPORTUNITY: CYCLES ANIMATOR
Oasis Animation is expanding!
We are working on major projects, with several series already distributed around the world.
Oasis Animation: a company specialized in 2D digital animation
The largest studio in Quebec and a major player in Canada
Interesting challenges
Skills development with training at Campus Oasis
A team of passionate people
Permanent position contracts for all our employees
Variable hours to accommodate the needs of all
Personal days paid
Free consultation with medical professionals via Dialogue, 24hrs/24
Group insurance
A very friendly social commitee team
A beautiful work studio in the heart of Plateau Mont Royal!
We are recruiting Cycles animator: The Cycle Animator is responsible to animate the cycles of a 2D animations series (walking, running and other). The incumbent must create high quality animations in accordance with the recommendations, the corrections and technical as well as artistic requirements.
Daily tasks:
Make the walking and running cycles
Have the animations approved by the Animation Supervisor
Maximise reuse as much for the animation than for the draws
Daily follow up of the work done
Required talent:
Degree in animation or equivalent experience
Good knowledge of Toon boom Harmony
Good knowledge of the basics and techniques of 2D animation
Ability to work independently and ease to integrate in a team
Creativity, resourcefulness, rigor, good work ethic
Ability to work under pressure and to maintain a good work pace
Ability to work effectively within technical constraint and project deadlines
We are looking for rare gems to fill our teams. Highly creative, thirsty for new projects, willing to learn?
Apply now at http://oasisanimation.com/en-us/Jobs!