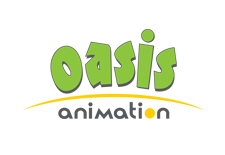 JOB OPPORTUNITY: BACKGROUND DESIGN SUPERVISOR
Oasis Animation is expanding!
We are working on major projects, with several series already distributed around the world.
Oasis Animation: a company specialized in 2D digital animation
The largest studio in Quebec and a major player in Canada
Interesting challenges
Skills development with training at Campus Oasis
A team of passionate people
Permanent position contracts for all our employees
Variable hours to accommodate the needs of all
Personal days
Group insurance
A very friendly social commitee team
A beautiful work studio in the heart of Plateau Mont Royal!
We are recruiting for a Background Design Supervisor:
A leader to his team, the Background Design Supervisor is in charge of creating digital environments for 2D Animation series. His role is to supervise and motivate the background artists, as well as assign and approve their work, while respecting the production schedules and the creative imperatives. He must respect the technical and artistic requirements of the producer, the director and the client.
Daily tasks:
Read the script.
From the script, determine all the designs to be created, reused or new, in collaboration with the director.
Distribute the work, equally between the background design artists.
After receiving the final board, add or adjust the design pack so that it is complete and updated.
Make revisions requested by the client, the producer and the director.
Maintain regular communication with the production manager and the director and inform them of the work in progress.
Attend the scrum meetings and convey the relevant information to the team.
Give regularly feedback to the members of his team in terms of their performance.
Required talent:
Degree in animation or equivalent experience.
Good knowledge of Toon Boom Harmony.
Very good drawing skills and excellent understanding of perspectives.
Ability to generate creative ideas that promote entertainment and humor.
Minimum of 5 years' experience in character design for TV Series or animated 2D films.
Excellent ability to coordinate and meet deadlines.
Ability to communicate and mobilize people.
We are looking for rare gems to fill our teams. Highly creative, thirsty for new projects, willing to learn? Apply now at http://oasisanimation.com/en-us/Jobs !