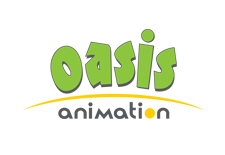 JOB OPPORTUNITY: LOCATION DESIGNER
Oasis Animation is expanding!
We are working on major projects, with several series already distributed around the world.
Oasis Animation: a company specialized in 2D digital animation

The largest studio in Quebec and a major player in Canada
Interesting challenges
Skills development with training at Campus Oasis
A team of passionate people
Permanent position contracts for all our employees
Variable hours to accommodate the needs of all
Personal days
Group insurance
A very friendly social commitee team
A beautiful work studio in the heart of Plateau Mont Royal!
We are recruiting Location designer :
The Location Designer creates the graphic representation of the environment of a digital 2D animated series while respecting both technical and artistic requirements.
Daily tasks:
Read the script.
Create the designs based on the scripts and the Location Design Supervisor's instructions.
Make the corrections required by the Location Design Supervisor and the Director.
If applicable, do the roughs and the clean using the established method.
Do the research if necessary and respect the script description.
Bring new ideas and creative solutions for the visual and technical aspects.
Work collaboratively within a team and listen the technical and artistic instructions from the Director, the Producer and Character Designer Supervisor.
Required talent:
Degree in animation or equivalent experience.
Good knowledge of Toon Boom Harmony.
Talent for script analysis and ability to translate to visual design.
Strong drawing ability and a solid sense of design for 2D animation.
A strong understanding of proportions, balance, perspective, dimension and dynamism.
Ability to adapt yourself and work in a variety of artistic styles.
High creativity, attention to details skills.
Knowledge of the character's anatomy.
Ability to communicate professionally and positively.
We are looking for rare gems to fill our teams. Highly creative, thirsty for new projects, willing to learn? Apply now at http://oasisanimation.com/en-us/Jobs!