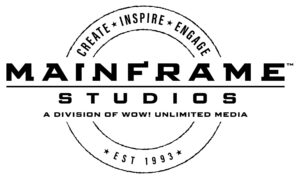 Art Director – 2D Animated Series
At Mainframe Studios, we're creators first. We eat creative and technical challenges for breakfast and come back for more. We've been doing this for 25+ years, and we're still going strong. We're lucky enough to have the best team in the business. From our artists to our technical and production folks, everyone is passionate about collaborating on some kickass projects. We've partnered with the biggest names in the business to create a huge library of content. With partners like Mattel, Netflix, DreamWorks, Sony, Silvergate, and Nickelodeon, it's no wonder we've established ourselves as a creative force to be reckoned with.
WE WANT YOU (and your mad skills)!
For this 2D animated production, the Art Director will develop and establish the look and style for the series. This is executed through the initial development of the world look, designs for characters, locations, and props. From development to post, this hands-on role is to be able to generate designs from script, work with departments to ensure the visual quality of the production is maintained May participate in development of style guide and marketing materials.
Responsibilities and Duties
Works closely with Development team to develop the visual language for the production, including character refinement and look development of the world.
Works with Production to establish workflow and best practices documentation for the series Art department.
Works closely with Director to deliver the art direction for the project.
Able to generate designs from script, primarily to cartoons.
Able to generate a color palette which will guide the project's lighting, mood and atmosphere.
Collaborates with Director to deliver the quality and complexity standards for the project.
Collaborates with Department Supervisors to ensure all artwork consistently meets the project's creative parameters and complexity level while adhering to its schedule and budget.
Responsible for the project's stylistic, color, texture and lighting consistency.
Interprets, implements, and facilitates notes and feedback from Production Executives, Director, and Producer in a timely and qualitatively acceptable way.
Partners with production team to prioritize completion of artwork pending production requirements.
Adheres to digital file management protocols.
Support and integrate the values of Mainframe: that being a commitment to innovation, creativity, professionalism and inspiration.
Interact respectfully and professionally with colleagues, staff members and clients.
Additional duties as requested.
Qualifications and Skills
Degree and/or diploma in fine arts or animation or equivalent experience is required.
4-6+ years of experience working in a professional environment within their discipline.
4+ years experience working on a 2D animated series as an Art Director.
Highly imaginative, thinks out of the box.
Strong ability to present creative ideas.
Expertise in design, colour and application.
Equally as versatile using a pencil as Photoshop and other similar software.
Expertise in creating conceptual artwork in a wide spectrum of styles ranging from cartoony to realistic.
Extensive knowledge of design and animation.
Extremely knowledgeable about the production process from start to finish.
Proven abilities to guide the visual style of the project from the conceptual stage through production and post production.
Pipeline expertise a plus.
Working knowledge of Toon Boom Harmony a plus.
Outstanding problem-solving skills and ability to work collaboratively.
Outstanding organizational and time management skills.
Ability to multi task and delegate.
Adaptable to change, he/she/they can alter course of action quickly per production needs.
Highly motivated, pro-active, solution-minded, solid work ethic and positive attitude.
Excellent leadership skills inspiring the team to work as a cohesive unit and eager to put forth their best.
Ability to collaborate and facilitate feedback requested by executives.
Ability to liaison with production staff and artists and clearly communicate production process, plans and concepts and set clear expectations.
Efficient and detail oriented.
Ability to deliver work on time and meet set performance objectives.
How to apply: https://mainframestudios.applytojob.com/apply/M3KtqoduN3/Art-Director-2D-Animated-Series
—
Mainframe Studios is an Equal Opportunity Employer, which means we will not discriminate against any individual based on race, colour, sex, national origin, age, religion, marital status, sexual orientation, gender identity, gender expression, military or veteran status, disability, or any factors prohibited by applicable law. This policy applies to every aspect of employment at Mainframe Studios, including recruitment, hiring, training, advancement, and termination. We celebrate diversity and are committed to creating an inclusive environment for all employees and partners. Should you require accommodation throughout the recruitment process, please let us know your requirements when contacted.