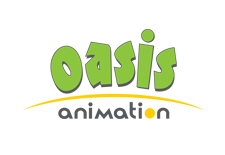 JOB OPPORTUNITY: 2D ANIMATOR
Oasis Animation is hiring !
We are working on major projects, with several series already distributed around the world.
Oasis Animation: a company specialized in 2D digital animation
The largest studio in Quebec and a major player in Canada
Interesting challenges
Skills development with training at Campus Oasis
A team of passionate people
Variable hours to accommodate the needs of all
Personal days paid
Free consultation with medical professionals via Dialogue, 24hrs/24
Group insurance
A very friendly social commitee team
We are recruiting 2D animators:

A true actor, the 2D digital cut-out animator is responsible for the animation of scenes in a 2D animation series that typically includes characters, sets and accessories. The animator must create high quality work that respects the recommendations, corrections and technical and artistic requirements of the animation supervisor, the lead animator, the production manager and the producer.

Daily tasks:
Participate in episodic launches to discuss the goals of your scenes and the role they play in the story.
Manage and produce quality animated frames in Harmony within the established schedules.
Work with your Supervisor to find the best solutions for tackling complex ideas.
Check the scene planning
Do the posing and have it approved by the lead animator before animating
Animate the scene (cut-out and traditional animation)
Make the walking and running cycles
Animate elements or effects that cannot be animated in cut-out
Apply the basic animation principles: staging, timing, acting, posing
Maximize reuse both in animation and drawings
Follow the soundtrack and do lip assigment of mouths
Apply camera movements
Make all requested corrections
Demonstrate leadership and share knowledge with your fellow team members
Manage and meet established quota and execute shots in keeping with Director's vision.
Communicate with your Supervisor to ensure your weekly quota will be met.
Required talent:
Degree in animation, art, multimedia or equivalent experience
Good knowledge of Toon Boom Harmony
Good knowledge of technical basis in 2D animation
Demonstrate autonomy while integrating easily within a team
Creativity, attention to detail and concern for a job well done
Work effectively within the technical constraints and timelines of the project
We are looking for rare gems to fill our teams. Highly creative, thirsty for new projects, willing to learn? Apply now at http://oasisanimation.com/en-us/Jobs!