Reader Craig Long graciously supplied a review of the Emily Carr Animation Gradshow mentioned here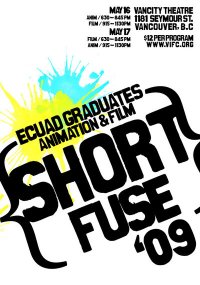 .
*Review of Short Fuse, ECUAD Animation Grad Show*
As I think back to my formative last days of university, I remember feeling
a strange mix of emotions when instructors would assign an open-ended final
project. With limitations that stretch only as far as one's imagination, the
weight of complete freedom can at times be overbearing. To me, the final
project culminates one's scholastic life most successfully when a certain
balance is achieved: one that demonstrates the depth of skill and knowledge
acquired, while simultaneously foreshadowing the potential that lies ahead.
Of course, achieving this is nothing short of a daunting task.
This is precisely the lens through which I now view student work. And as
such, I approached the Emily Carr University of Art and Design animation
grad reel, Short Fuse, with both excitement and trepidation. Who, in the act
of creation, would reach a point of enlightenment, and who would succumb to
pressure?
Nathan Gillis and Callum Paterson's *Bonefeather* was the first of 20 or
so films to screen, and yet at the end it still clearly stood out as a crowd
favourite. Gillis and Paterson have essentially recreated one of my
favourite scenes from BBC's Planet Earth, in which two birds of paradise
compete for a potential mate's attention through a bizarre display of
plumage—only Gillis and Paterson have presented it in the spirit of a
nine-year-old's imagination. Envisioned with the cut-and-paste aesthetic of
pipe cleaners, felt cloth and craft feathers, the child though whose mind we
vicariously live, clearly understands the impetus of such a competition. A
swift a kick to the nether regions—or shall I say, feather regions—and the
projectile stream of rainbow vomit made of multicoloured ribbons it enduces,
suffice to say, fails to impress our female friend. It did, however,
impress me.
Shannon Ang's *Gopher's in Space* also healthily satisfied my comedic
appetite. Ang's animation is aptly titled, as we watch a goofy-looking young
gopher nervously prepare for his first mission into space. His anxiety is
only amplified upon witnessing his fellow astronauts continuously return to
ground battered and bruised. When it finally comes to our protagonist's
turn, we follow him up, up and away, only to find that he is but the
innerworkings a brutal Whac-A-Mole arcade game (or gopher-variation there
of). Although I was left with a strange feeling of having "seen it before",
it could simply be the result of well-executed 3-D animation and story
telling: the kind of animation short you might have seen preamble a Pixar
flick.
Two other light-hearted animations stand out in my mind. *Yan-Yan Sub Chui
(Fun Moments with Yan-Yan)* by Wenxin Annie Chen told the touching story
of a young girl who relives her grandfather's experience watching her grow
up, by reading the pages of his diary. The story of Chen's Caillou-style
characters unfold beautifully against a backdrop of hand-drawn Chinese
characters. Jing Teo's *A Bottled Promise* was also made in a children's
animation style. It told the story of two neighbours whose young love
endures, even despite being uprooted by their families. As their lives
digress, their vow to keep in touch brings them together again through the
magic of a message in a bottle.
Also high in cute content, was Fiona Meng's dream sequence *Shangri-La*.
Aesthetically, it was a power-puff-girl-meet-manga sensation. But on the
same note, it was a bit like cotton candy: it tasted sugary-sweet, but
consisted of mostly fluff. I only wish Meng had dared to further develop the
underlying theme (which was in fact quite dark): one's desire to escape a
depressing modern, urban world.
On the other hand, there were students who explored those darker
undertones, but still had difficulty conveying a strong message. Those who
demonstrated excellent technical skill, however, deserve recognition. The
burning embers of a tree-person caught amidst a forest fire, in *Roots* by
Lysandra Lee, were vivid, if not haunting. The fight sequence in *Brother*shows that Dimitri Sirenko clearly has a future in game design. And the
transitions in *0 (Zero)* by Jace Kim, in which the swoosh of a sword
becomes the flight of a crow for example, were outstanding.
Similarly, the transitions in *The Art of Drowning* by Diego McLean were
also incredibly well executed, and the overall tone was beautiful. I would
have perhaps scored it 10/10 had I not later discovered it was in fact an
interpretation of an existing poem by American author Billy Collins.
Ideally, I would have liked McLean to animate a poem of his own writing,
even if not as poignant. But of course not everyone is a poet of words, so
in that case, I would have let the animation speak for itself and omitted
the narration (which contained many, quite obvious visual clues).
Nevertheless, it was among my favourites.
*Dinner Parade* by Gillian Cole was most similar to McLean's The Art of
Drowning, both in style and tone. But what set Cole's apart, as I'm sure you
guessed, was originality. What begins as a study of food-chain supply
quickly becomes a grotesque and diabolic look at consumption and hedonism.
In a world in which a brain can ooze out one's ear and inhale their entire
body, predators just as easily become the victims. Again, this was a
favourite of mine—and apparently of many. *Dinner Parade* was granted the
People's Choice Award by a group of animation professionals and former ECUAD
graduates.
Finally, I must mention Su-An Ng's *Nature on It's Course*. It was the
winner of the President's Media Award, as judged by CTV producer Louise
Clark, Presentation House Gallery curator Helga Pakasaar and Academy Award
winning animator David Fine. The complexity of Ng's animation and
story-telling only revealed itself subtly. Behind a forest of cubist trees,
an intricately modeled moose rears its head as a scribble of ink. And as the
hands of a hunter are seen pulling the trigger on his rifle, so too does he
trigger a rumbling avalanche of crumpled paper. In that way, watching *Nature
on It's Course* is as much a visual experience as it is a tactile one,
which is why Ng received the accolades she deserves. The jury also commented
on the film's originality, effective blend of techniques, sophistication and
how it revealed its message subtly.



*Craig David Long is the assistant editor of MONTECRISTO magazine, a
regional lifestyle quarterly for the discerning, cultured Vancouverite. Pick
up your personal copy of MONTECRISTO at your local Chapters/Indigo
location in Greater Vancouver. For more information about MONTECRISTO,
please visit www.montecristomagazine.com or follow them on twitter
@MONTECRISTO_Mag <http://www.twitter.com/MONTECRISTO_Mag>.*
Thanks to Craig for the review!