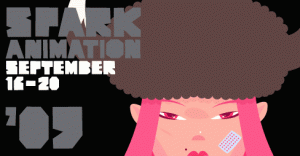 Lotsa good stuff at SPARK this year.  If you're in VAncouver, you should be going.
I'm hoping to have some coverage from one of our dedicated readers.
Here's the press release
SPARK ANIMATION '09 CELEBRATES INSPIRATION & INNOVATION
WITH A STELLAR LINEUP OF INTERNATIONAL SPEAKERS
AND ANIMATED FILM PREMIERES
Vancouver ACM SIGGRAPH launches the Spark Animation '09 Festival and Conference. Premieres and production sessions dominate the stellar lineup of films and conference talks. This year, Spark Animation contains 3 full days of conference sessions, 5 evenings of film screenings, an opening mixer and a closing party on Saturday night. New this year are master classes and separate business tracks to compliment the usual lineup of artistic and technical talks with speakers from some of the best animation studios including DreamWorks Animation SKG, Pixar Animation Studios, Starz Animation, Laika, Blue Sky Studios and Sony Pictures Imageworks.
Featured guest speakers set to sizzle SPARK Animation are Chris Edwards (Avatar, Tim Burton's Alice in Wonderland), Chris Williams (Cloudy With a Chance of Meatballs), Conrad Vernon and David Burgess (DreamWorks Animation SKG), Eric Riewer (Gobelins, l'école de l'image), Pixar Animation Studio, Laika Entertainment, Blue Sky Studios and Sony Imageworks.
Evening screenings of Spark Animation '09 Festival Films will take place at the Vancouver International Film Centre's Vancity Theatre from September 16 – 20.  Daytime presentations of Spark Animation '09 Conference runs from September 17 – 19, with artistic and technical sessions taking place at the Vancouver International Film Centre's Vancity Theatre, while business talks, master classes, panels and vendor demonstrations are scheduled at the Opus Room in the Opus Hotel.
The Festival begins Wednesday September 16 with two Canadian film premieres! Direct from Ireland Director Tomm Moore (Cartoon Saloon) and Art Director Ross Stewart will help kick off the evening of screenings by introducing their award winning and visual stunning animated feature The Secret of Kells.  Both will be on hand to participate in a Q&A session after the screening. The evening will end with Michel Ocelot's award-winning Azur & Asmar: The Princes' Quest.  Opening night films ticket holders are invited to join the Spark Animation industry mixer at 6:30 pm.
The Conference closes on Saturday September 19 with The Best of SIGGRAPH 2009 short film series and an industry party that will amaze, with Tangible Interactions returning with their latest techno-creations.
The Festival closes on Sunday September 20 with a full day of SIGGRAPH Animation Festival presentations and evening screenings of Mary & Max and $9.99.
Industry session highlights at the Spark Animation '09 Festival:
Full Frontal Nudity: From Oscar Winning Short to Award Winning TV Series
with Oscar winning director David Fine
Digital Strategies for Film and Television Properties
with Jessica Leigh Clark-Bojin, Paul Gertz, Mark Magnusson & Jennifer Ouano, moderator: Matt Toner
Making of Cloudy with a Chance of Meatballs
with Chris Williams (Sony Pictures Imageworks)
A Conversation with Monsters vs. Aliens
with co-directors, Conrad Vernon & David Burgess (DreamWorks)
It's Not Shrek. It's Not Madagascar. What Is It?
with David Burgess (DreamWorks)
Up with the Circle and Square
with Patrick Lin & Ricky Nierva (Pixar)
Gobelins: A Tapestry of Talent and Skills
with Eric Riewer · Gobelins, école de l'image
Coraline: The Changing Face of Animation
with Martin Meunier (Laika)
For a full list of festival films and conference presentations, visit: www.sparkanimation.ca
-end-
NOTES:
Vancouver ACM SIGGRAPH is the Vancouver chapter of ACM SIGGRAPH, an international membership organization comprised of a diverse group of researchers, artists, developers, filmmakers, scientists, and any other professionals who share an interest in computer graphics and interactive techniques.  The ACM SIGGRAPH community values excellence, passion, integrity, volunteerism, and cross-disciplinary interaction.  ACM SIGGRAPH is best known for the annual SIGGRAPH conference, the premier technology conference in the world.  ACM SIGGRAPH's parent organization is the Association for Computing Machinery (ACM), the world first and largest computing society.  In 2011, the annual SIGGRAPH conference will be held in Vancouver, the first time this event has been held outside the United States.