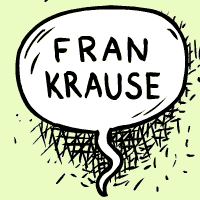 Animator Fran Krause posted this to his blog some time ago, I'm going to reprint it here without his permission and hope he doesn't mind.
For the last several years, I've sent an email to all my students at the end of the Spring semester explaining the easiest and cheapest ways to attend the Ottawa International Animation Festival (OIAF). Every year, I comb through the email, update the prices and urls, and send it out. I thought this year it would be worth sharing online.
Hi, everybody!
I want to encourage you all to skip my class on the week of October 14-18. You should all be in Canada that week. That is the week of North America's biggest animation festival, the Ottawa International Animation Festival. It is a blast. You will meet hundreds of animators. You will see hundreds of cartoons. I can trace almost every job I've ever had to someone I've met at Ottawa, it's a huge thing for animators.
There's a redeye Greyhound bus that leaves Port Authority late on Tuesday night and will get you to Ottawa for the start of the Festival on Wednesday. The round trip ticket is around $86 if you get your tickets three weeks in advance. The bus will probably be filled with students from Pratt, SVA, NYU and Parsons all heading up for the festival. The student pass, which will get you into all the screenings, senimars, and parties, costs $170 Canadian bucks this year. I'm in the process of checking if Mercy will buy a bunch of passes. I'll get back to you all ASAP on that. Depending on what sort of hostel or hotel you crash in, the whole trip is going to cost around 400 bucks or so. Less if Mercy buys tickets. I know it's a big chunk of money, but think of it as an investment in your education. That would be a good way to explain it to your parents if you ask them to buy you a festival pass.
Student passes are $170 Canadian this year.
Bus tickets are running about $86 round trip if they're bought in advance. Hotel rooms are about $125 a night, so split four ways for the four nights each student would spend around $125.
Total cost would be about 390 per student not counting food.
Here's a whole bunch of information on Ottawa:
IMPORTANT!
GET YOUR PASSPORT NOW! If you are at home, make sure you bring your passport back to school with you. I remember being able to get into Canada with a driver's license. Those days are gone. You will need your passport. You're going to be driving up to the border, late at night, with a carload of arty-looking kids. Bring your passports. Do not attempt to bring anything questionable over the border. If, by some strange coincidence, you happen to see another carload of friends in line in front of you, do not start honking and waving. They will pull you aside and search both cars. They will search very slowly. It will take forever. Trust me.
How to get there:
You can carpool with friends. The drive up to Ottawa is about seven and a half hours, according to Mapquest. If you go with four or five friends in a car, it's the cheapest way to get there. Bring books on tape. If you have a car and empty seats, email me. I will try to organize a carpool.
You can also fly to Ottawa. Last I checked, www.orbitz.com says that tickets are about 316 bucks or so. That's the expensive way.
You can also take the bus. This is what most students do. Greyhound takes 12 hours and costs $86 round trip, if you buy your tickets three weeks in advance. You must get them early to get cheap tickets! You can take a bus that leaves New York at 9pm and gets to Ottawa at 9am the next day. Bond with your animation pals. Spend the money you save on excellent bacon and those candies that are shaped like maple leaves.
Where to stay:
The center of the festival is at the National Arts Center, or NAC. It's at 53 Elgin Street. Here is a map: http://tinyurl.com/dyf96 . Try to stay as close as possible to this place. All other events are located within walking distance to this.
Try to stay close to the center of town. The festival happens all over town, but usually within walking distance of the Lord Elgin Hotel at 100 Elgin Street, which is too expensive for you. Doesn't matter, you can still appear fancy by arranging to meet business contacts in their lobby. Shhhhhhh!
You have two options without sleeping in your car. You can spend about 25 bucks a night and stay at a hostel. They're very cheap but kind of noisy and not too much privacy. You can also spend 75-125 for a single and 100-175 for a double and split it with three or four people. I would recommend this. It will cost the same – and you get clean towels and little soaps! Look on www.orbitz.com or www.hotels.com or something like that. You can search by proximity to the festival.
I'd recommend the Days Inn Hotel on Rideau – It's right next door to one of the main theaters of the festival. $101 bucks for a double room! ($116 Canadian Dollars.)
Here are two hostels: This one is 25 Canadian bucks a night. five minute walk to the festival center.
Another hostel. 36 Canadian bucks a night, located in an old jail. Very close to the festival. Many animation students will be there.
IMPORTANT! If four or five of you are splitting a single room, don't all show up at the hotel desk at the same time! Not smart! They won't give you the key! One of you should pick up the key, then the others can go up to the room later. I had some students do it the non-smart way last year and they found themselves scrambling for a hotel room at the last minute.
EMAIL ME if you have any questions. -Fran
UPDATE: Jerrett Zaroski from the OIAF provided the following tip for cheap hotels:
Also, if you're not against editing blog posts and don't mind suggestions, you might want to include a direct link specifically to our Hotels page, Not many people know this, but a lot of the hotels are a lot cheaper if guests mention that they're attending our Festival up front (some sort of "event discount").