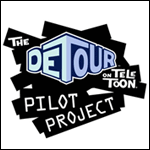 This week's offering on detour.ca is Drop Dead Gorgeous.  I got a note from Caroline Maria, the show's producer and director, that I thought I'd pass on to you guys:
hi Mike – well the Drop Dead Gorgeous pilot is now online at thedetour.ca – i was wondering whether you would be interested in sharing with your readers off the CAR site that we thank CAR for helping us recruit some great talent that helped make our pilot a reality and we invite everyone to view the pilot and support original canadian production – i'm among the few female directors in this adult-oriented animation field and i feel strongly that more programming of this nature, controversial and different, that has some anime influences, will help grow our canadian animation industry into the future.
cheers,
Caroline
Best of luck to Caroline and all the pilot producers!
m