Last updated on April 12, 2010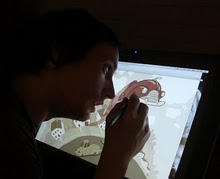 Anyone who reads here regularly knows what a fan I am of the work of animator Nick Cross.  Nick has made some amazing films over the years(Waif of Persephone, Yellowcake), and is currently hard at work on his latest, the Pig Farmer.  Nick has always been very forthcoming with the process behind his films, sharing loads of production art over on his blog, the comically-named-at-a-friend's-expense pyatyletka.blogspot.com.  Recently, Nick posted a series of clips documenting his animation process.  They're hosted through Blogger, so I can't embed them here, but follow the link and check them out.  He's broken it into stages, and it's a great how-to for those who are interested.
Following that, Nick posted another clip, this time through youtube, so I can give you this one directly, it follows Nick cleaning up some animation.  Here's the post.  Here's the clip:
And, for good measure, here's a link to an interview Nick did at the ASIFA-Hollywood Animation Archive with  Danny Young and Michael Woodside.  The  podcast is online here.
And finally, a plug.  Nick is doing some crowd-funding for his latest film.  Please go check out his page on IndieGoGo and throw some cash at the Pig Farmer.  Support cool content!