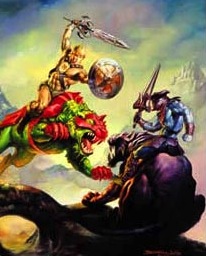 Sounds like a joke, but could be serious fun – Tonight, Monday May 31, Toronto's faction of the Dr. Sketchy crew will be hosting a 'He-Man vs. Skeletor' sketch session @ the Cameron House in downtown Toronto. Fully licensed venue. You might even win a prize courtesy of the Silver Snail.
"Continuing our legacy for crafting amazing geek-out drawing nights, we are proud to present to you – He-Man vs Skeletor!! Katherine has been hard at work completing the more than fan-convention worthy costumes, the models are excited, and Brett's got some hilarious stuff mixed for the mix!
Please note that this session, and future multi-model sessions will be $12 at the door.
Arrive early to ensure seating. Be prepared for an amazing night of drawing!
$12 at the door.
19+
at the Cameron House
408 Queen St West
Doors at 6 pm
Drawing from 7-10pm
And as always, drawing only, photography prohibited!"