TVOntario interview with Jones & Freleng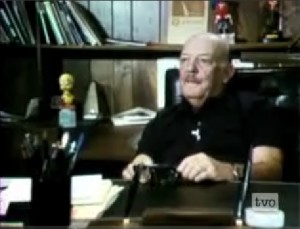 We'd be remiss if we didn't post this here, just to continue a bit of a meme if nothing else. Posted on Mark Mayerson's blog and Cartoon Brew yesterday, here's an archive interview with Chuck Jones and Friz Freleng circa 1980.
For more background on the show, refer to Mark Mayerson's post on the subject. I also enjoy how annoyed Friz seems to get at Yost's uninformed questions…it seems Friz isn't used to talking to fans, but willing to.