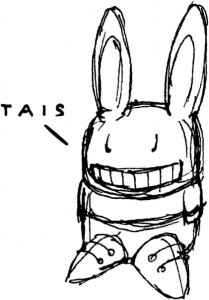 Call for applications to:
The Toronto Animated Image Society and Art For Commuters
DRIFT: The Elements
Deadline Submissions: June 24, 2011
The Toronto Animated Image Society is seeking proposals for a commissioned project.
DRIFT: The Elements takes for its theme the essential elements of life:
Earth, Wind, Fire and Water; elements that can give or take LIFE. Artists are invited to explore their own personal interpretation of these fundamental elements with a focus on abstraction and experimentation.
Each successful applicant will produce a one to three minute animation exploring this theme.  Projects will be completed between July and September 2011. TAIS will offer support for the development and production process of the projects.  Selected participants will be expected to attend a workshop prior to receiving access to equipment.
Works will be screened on October 1, 2011 for 12 straight hours overnight at Nuit Blanche 2011 on the Onestop Network of 300 television screens in the Toronto Transit Commission Subway System.
DRIFT: The Elements will dominate the underground tunnels, bringing art to over one million commuters, without interruption from the news and advertisements that usually populate the screens.
The works will also be hosted on the www.onestopallnight.com website.
Selected artists will receive:
·     TAIS Full Studio Membership ­ including equipment access worth $150 each
·     $400 cash honorarium
·     Mentoring & support from an experienced instructor
Each application must include:
·     Project description ­ 200 to 300 words
·     CV, resume, or brief bio
·     Samples of recent work (i.e., CD or DVD for time-based artists; maximum of 10 images on CD for visual artists)
·     A self-addressed, stamped envelope.  Submissions without a SASE will not be returned.
Selected artists will be announced on June 30, 2011
Contact and mailing address for submissions:
TAIS Programming Committee
Toronto Animated Image Society
60 Atlantic Avenue, Suite 102
Toronto. Ontario,  M6K 1X9
Email:  tais@bellnet.ca
Phone:  416-533-7889
**Digital submissions can be submitted via email through a file hosting site or via ftp link. Please do not send large files via email.
About The Toronto Animated Image Society (TAIS)
The Toronto Animated Image Society is a non-profit artist-run centre that explores and promotes the art of animation and supports animators as artists.  Over the past 25 years, TAIS has encouraged the exchange of information, facilities, ideas and aesthetics within Toronto's animation community through events, screenings, workshops, art exhibitions and by providing affordable access to a specialized animation studio.  For more information, visit: www.tais.ca
About Art for Commuters (A4C)
Art for Commuters is a non-profit arts collective that initiates unique, thought-provoking projects in the public realm. As Onestop Media Group's community arts programming partner, they bring urban art festivals and exhibitions to over 1 million people daily on the Onestop network of screens throughout the TTC subway system. Projects include: Contacting Toronto (part of CONTACT), Everyday Heros Film Festival, The Toronto Urban Film Festival, DRIFT (part of Nuit Blanche) and Stroll City. Art for Commuters was founded in 2007 by Sharon Switzer. For more information visit: www.art4commuters.com
About Onestop Media (Onestop)
Onestop Media Group (Onestop) is a world leader in the development, operation and innovation of Digital Out-of-Home (DOOH) Media. As a division of Pattison Outdoor Advertising (Canada¹s largest out-of-home media company servicing 90 markets coast-to-coast), Onestop owns and operates Canada's largest portfolio of DOOH properties, collectively reaching a Canadian audience of over 2,000,000 viewers daily. For more information visit: www.onestopmedia.com