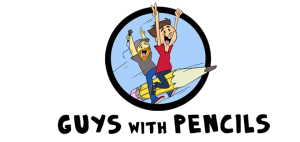 Do you like podcasts?  Do you like animation and comics?  Then you might like this: Guys With Pencils.
The guys in question are Adam Hines and Andrew Murray.  They're graduates of the animation program at Sheridan and have been doing this podcast for around a year.  They get some pretty good guests, including the likes of Mark Mayerson and Colin Jack.
Quick plug.  That is all.