Shameless Plug Thursday: Colin Jack's Toads on Toast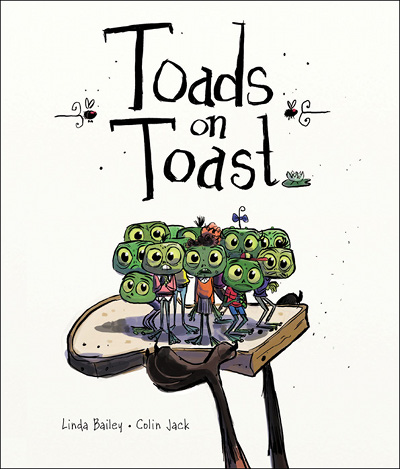 Last week I linked to a bunch of comics by animation types.  This week I'm going to give a shout out to a pal of mine who's keeping busy working in the world of kids' books.  By day (mostly), Colin Jack is a story man in the animation world.  He's worked on lots of stuff you've seen, most recently Hotel Transylvania, and I'll attach a personal favourite of mine, Fifi et Bobo, which was made for Teletoon's Pilot Project a few years ago.  When he's not doing that, he illustrates books.  Right now, you can pick up Toads on Toast, written by Linda Bailey with Colin's fancy drawings of toads, on toast(go figure).  Kids Can Press has it here, and you can find it on amazon here.  I'll also throw in a coming soon plug for his next book, Galaxy Zack.
This is an unabashed plug, if you hadn't noticed by now.  I'm a big fan of Colin's work, and have done a few things with him in the past.  In fact, for the sake of total transparency, I should mention that I'm developing a short film with him right now, in my capacity as Director of Development at Smiley Guy Studios.