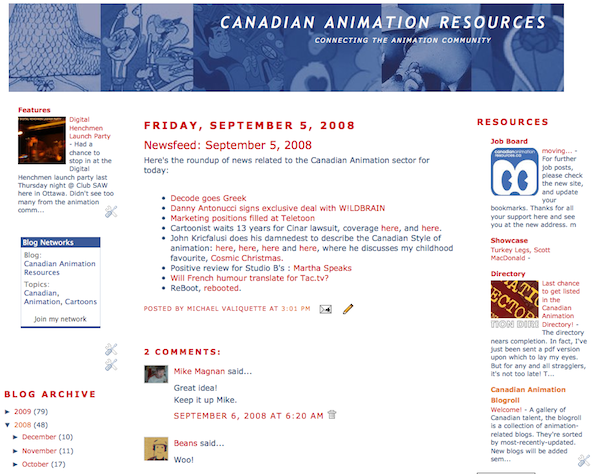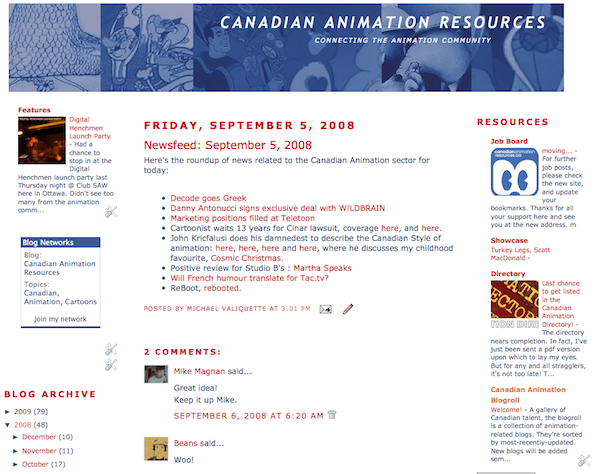 I promised myself I was going to try to make a big deal out of this for a change, but, as usual, I'm too busy doing the things that I do with my life, including running this site, to take the time to celebrate it.
Five years ago today, the very first post went up on canadiananimationresources.blogspot.com. No big launch, no fanfare, just a post. Well, two posts actually.
This one: http://canadiananimationresources.blogspot.ca/2008/09/newsfeed-september-5-2008.html
And this one: http://canadiananimationresources.blogspot.ca/2008/09/from-archives.html
It seemed like a good idea at the time. Five years later, I think it still is. I love running this site. I love the people I get to talk to, the places I get to go, and you guys, seriously, the feedback and positive support I get from you, it's amazing.
I wish I could do all the things I'd like to with it. There's always so much more. But I do my best, and I'll keep at it, I promise. Some days we're really really just a glorified job board, but even that's something.
Thanks so much to everyone who's helped out over the years. We've had some great contributors: Beccy David, Rob Anderson, Warren Leonhardt, just to name a few. Our sponsors: thank you so much for helping to keep the lights on. And everyone who stops by. You guys. Thanks so much. You're my community, and I am grateful for you. At the risk of coming off as hokey, I really love this business. For all the headaches, the ups and downs, I fucking love what I do. I love what we make, and I love the people that make it. You guys are my community, and you have no idea how important that is to me. I've been doing this for almost twenty years, a job I fell into, and I love it more every day. I'm a very lucky guy, to get to be a part of something like this, and to earn a living at it. So this site is me sharing it, sharing how damn excited I get, how grateful I am, sometimes even how upset it makes me. And even on the days where we're just a job board? Those are damn good days. Because hopefully it means someone else will find a way into our club, and get even a fraction of what I get from it.
Happy birthday to us.
And thank you, so very much.
Mike