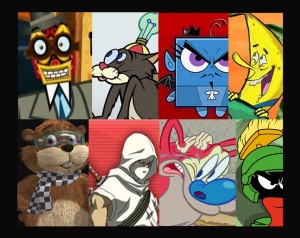 When doing a profile interview with a voice actor, it only makes sense to do a podcast. Plus there's no way I could type as fast as Eric lays it down.
Eric Bauza is an animation triple threat – voice actor, standup comedian and layout artist. In our first episode of Canadian Animation Radio, he gives us a peek into the life of an up-and-coming voice actor succeeding in making the transition from Canada to LA, and gives solid advice to those who might want to follow his lead.
Christian Potenza's webisodes are invaluable for making it as a voice actor in Toronto, and here Eric Bauza lays out how he went from a high school kid in Scarborough Ontario to Marvin the Martian. Past roles include Stimpy (Ren & Stimpy, The Lost Episodes), White Pantera (El Tigre!), Storm Shadow (GI Joe – Resolute), The Flash (Young Justice), and many more.
I sound like a wannabe FM radio git and make for a poor laugh track, but it's not about me. It's about Eric setting the example to anyone who wants to get into this kind of work and make a transition to the States. He should know, he's living it!
The hardcore advice starts around 30 mins 56 mins respectively, but you really should listen to the whole thing, he's hilarious!
Canadian Animation Radio – Ep.1 – Eric Bauza
[audio:http://warrenleonhardt.com/audio/Ep. 1 – Eric Bauza interview.mp3|titles=Eric Bauza|artists=Canadian Animation Radio]
PS – here's the direct download to the m4a . If you download it & play it in iTunes, the 'Now Playing' window will provide you with some fun visuals & you can skip to whatever chapters might interest you.
Myself, I don't know if I should keep doing these episodes, but I will if you want me to! If anyone has any suggestions for episodes, comments, or a better theme song that I could use (I have a thing for marching bands, I think they're awesome but not everyone does), drop a note below. I'm not claiming that I have any idea what I'm doing, but someone's got to do it!