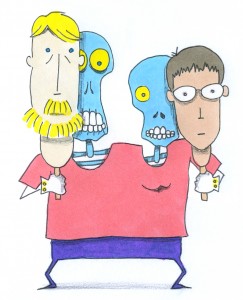 This 4th episode of Canadian Animation Radio was a ton of fun for me.
When I was in Calgary in the early 90s, my first exposure to animation was through the Quickdraw Animation Society's night courses taught by then-instructor Kevin D.A. Kurytnik. I have been grateful ever since. With his partner Carol Beecher, they have nearly 20 years worth of independent animation experience and they have a knack for spreading enthusiasm for the art of animation and inspiring others to make their own approach to the medium. Lucky students at Alberta College of Art & Design in Calgary can now benefit from these loveable nutjobs, as they both have a hand in the animation curriculum there.
We talked for over an hour about their beginnings, influences, funding sources available to indies, shared some funny anecdotes about people we've met and cover where Fifteen Pound Pink is headed now – producing a full-length multimedia feature and a whack of series parodying the classic 'Hinterland Who's Who' series we all know and love. These two are some of the few who walk the walk in indie animation. I even forgot that I had the flu during this record, they are that inspiring. I originally intended to post this before the Ottawa International Animation Festival, but lack of time, the flu and work all got the better of me. Fortunately, this post also fits in with a Hallowe'en-type theme as one of Fifteen Pound Pink's best films deals with Death and what amounts to a really bad morning for Mr. George Reaper.
Almost every film they've made can be found on their Vimeo channel and YouTube channel. I've also posted whatever films of theirs that we discuss below this interview.
Enjoy! And make stuff.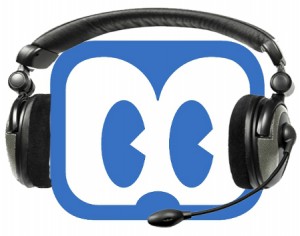 Ep. 4 – Fifteen Pound Pink – Kevin D.A. Kurytnik & Carol Beecher
Explicit language used in good humour, be advised.
[audio:http://warrenleonhardt.com/audio/Ep. 4 – Fifteen Pound Pink interview.mp3|titles=Ep. 4 – Fifteen Pound Pink|artists=Canadian Animation Radio]
mp3 | m4a
Fifteen Pound Pink Productions' sites & channels:
Mr. Reaper's Really Bad Morning
Filmography:
http://vimeo.com/10532494